18blackgirlz Review
18blackgirlz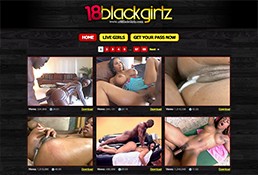 Price: $1.00 (2 Day Access)
The action is quite hard here: there is anal sex a lot, creampies, monstercocks, interracial sex, lesbian and straight group sex shots too. It's a nicely varied, wide-ranged collection, actually.
00000
18BlackGirlz Website Report
Intro
The 18BlackGirlz is a collection of hardcore porn, with hot black girls in focus who get banged by horny guys. This site has everything you need when you are looking for interracial or black on the black action, and even those who need something amateurish could find some hot porn scenes in here. As a member of the 18BlackGirlz, you gain access to all its content and a lot more. It's simply because the 18BlackGirlz doesn't exist as a standalone site: if you join, after you log in, you land at the VideosZ members' area. The 18BlackGirlz is a thematic listing of the ebony-related videos of the VideosZ. This, however, doesn't mean that you are going to access only ebony porn.
Features
Naturally, the tour page of the 18BlackGirlz is a tube-like page, where they list the hot videos on a long list. There isn't much you could do here, if you pick a thumbnail and click, you get to the signup page. It says "error", which is a word we usually don't like to read, it just feels fake. They could just write: signup to watch, in my opinion. Never mind, if you like black girls' pussy, you will head straight to the join page. The 18BlackGirlz is just a front, so the main VideosZ website is what welcomes you after joining.
The 18BlackGirlz videos will be listed first, and with the sorting options you can narrow down that long list. As you will see, there is a filter for HD videos, if you like quality, switch that on. As a member of the 18BlackGirlz, you gain the ability to watch and download the videos. The player uses MP4 videos and, on a good machine, it grants quite a good playback. If you are not interested in online watching, the download options might be what you need: WMV, AVI, and MP4 files are granted, usually, the latter has the HD options.
Content
As a member of the 18BlackGirlz, you get the chance to browse through the videos of several hot Black girls. They are not necessarily all as fresh as the site name forecasts, but there are many hot chicks and they get a hard treatment. We can't say they are amateurs because their stamina and nasty behavior tells us otherwise, and there are way too many fake tits around for the girls to be considered amateurs. Our best guess would be that they are hot professionals, though some of them just started in this business when their videos were shot.
Apart from the fresh girls, the site features several MILF ebony ladies too, who have a big booty and a great experience, which makes their performance much better. To satisfy your needs, the 18BlackGirlz have a fine selection of hotties, and there are all kinds of girls: some are polite and sweet, while others are mean bitchy girls who are just really asking for it. When the girls of the 18BlackGirlz get naked, you heart might miss a beat, especially if you enjoy naturally tight and sexy ebony bodies.
There are so many models here you won't know where to start to explore the site. Most scenes are close to be considered as professional shots, but they are usually originating from big porn factories. When you become a member here you might enjoy watching them, because there is really hot and hard action taking place in them. The scenes usually feature the plain sex, there is barely any story or scripts here, the couples (or groups) just get on with the action. The common ground for these videos is that the girls are all Blacks, while the fact that there are Black guys and Caucasians guys drilling the chicks gives a fine variety and edge to these movies. As you will see, these are mostly coming from DVD producers and, as far as we could tell, these usually go on for an average of 20 minutes.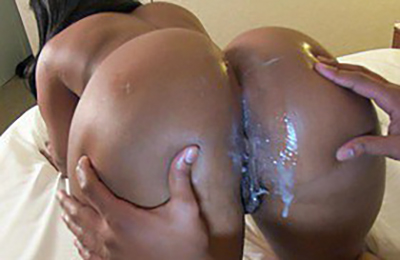 Conclusion
Though the 18BlackGirlz is just the gateway to a much larger collection, we have to say this much hardcore ebony related porn is tempting by its own. It may come from different sources and several studios and producers, but what matters is that the girls are always hot and quite sexy in those. For everyone who needs this type of porn to be able to enjoy themselves, the 18BlackGirlz is among the best choices. Our 18BlackGirlz review's bottom line is a simple and honest recommendation of this portal to every Ebony girl fan.
Enjoy the other best paid porn sites or more on 18blackgirlz.